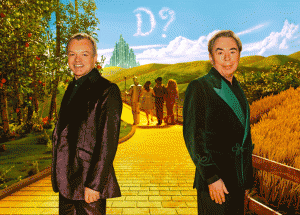 Just finished catching up with last night's Over the Rainbow on BBC1 and thought I'd nail my colours to the mast early on regarding who I think is going to place where, as well as a few observations on the show.
Firstly I just loved how brilliant David Grindrod (casting director) was in the first programme on Friday. Even when he gives good news he doesn't sound excited, just delivers it and bids farewell. I like that level of emotional detachment when judging something like this; just seems to give integrity.
Also, I wonder what happened to cause the addition of the 4 extra girls into the call-backs at 'Dorothy Farm'. I have trouble believing it was always going to happen to unnerve the other auditionees, so wonder what the motive was. Equally, it seems unlike a TV programme (with the judges) to openly admit they'd made a mistake. I wonder who in the production company/production team for the theatre show wanted those girls in contention. Regardless, they seemed to be right given that 3 out of the 4 went on to make it to the studio (Jessica, Steph and Emma), and 2 of them made it straight to the live shows (Jessica and Steph).
Also, we get it, Graham Norton is gay. Last year we had Nancy jokes in I'd Do Anything and now we have "friend of Dorothy" jokes. Now it has been made, I hope we can move on, but I doubt it!
Anyway with out further ado, my predictions for the series. I should say that I like my musical theatre to be very typical musical theatre, so my choices are probably quite traditional, so I'm going to say who I'd like to win and how I think that will differ from who will actually win it. Also, I'm only going to take the 10 that went straight through to the live shows: will come on to the wild cards later, who are subject to a public vote for the 11th place.
1. Jessica
2. Stephanie
3. Dani
My top 3 all give off a sense of "musical theatre" I think. I can't really put my finger on what marks someone out (to me) as theatrical rather than pop, especially when they were singing pop songs, but they stood out. Not sure the public will agree with my traditionalist casting but we shall see.
I'm not going to try and rank the rest, as it is probably too early to say, so I'll split them into 2 groups based on when I think they'll go out. I think I'm probably going to be hugely wrong (I wanted Jodie out from very early on last year and she ended up winning), but I'll give it a go.
This group is probably the most interesting as there isn't much that separates them, they are all nice to watch, but just don't stick out. With all the training that they are bound to have, this could all change and they will push into the top, or won't take it on board and so fall to the bottom.
I really didn't take to this group for mixture of reasons, but mostly for stage presence or dance. To coin the awkward American phrase; they don't feel like a "triple threat", and have something really lacking for my taste.
Back in reality, I think that the public vote might punish Amy for having been a glamour model and keep Sophie in for a lot longer than I would. I also think Jenny might do quite well, which is why she is in my second group.
In terms of the Wild Cards, I would have put through Emma, Tegan and Claire Harbourne over my group, but I did pick my top 7 out of the original 20, which I'm quite proud of! I'm surprised they didn't keep in some of the slightly more "out there" contestants such as Tasheka or Claire Hillier, and wait for the public to oust them. While they aren't my choice for Dorothy, I thought they were both good and would had made interesting characters for people to get behind (and maybe they still will). My prediction for wild card Dorothy is definitely Tegan. I both want her to be back in and think the public will too, so a strong contender!
To see if I am right, you'll have to watch the programme next Saturday on BBC1 (I'll be catching up on iPlayer in the week…), and then by the end of the series I'll have to give myself points for how well my predictions faired. If you think I am massively wrong then leave a comment putting me straight!