So this last week I took a trip to the US, staying in Boston and New Haven. This whole America place is still quite new to me, having only been to New York and Orlando previously, but I must say I was pleasantly surprised by both places. Boston is particularly nice, having a great feel about it that takes the best bits from both New York and London compiled into the same place. I didn't want to leave.
The weather was also fantastic, which combined with the scenery of almost everywhere we visited made for some great fun photography, which I've put in this Flickr set. I'd love to put them all in the post, but I think that'd get boring fast, so above is just a glimpse of all the beautiful places in that area of the world. I'll definitely be going back: good job my host is on a 3-year course!
I also made it my mission to sample as many American things as I could, which I think amounts to the following:
Mountain Dew
Dunkin Donuts coffee/iced coffee/donuts
Nutter Butters
M&Ms (to be fair we have them in the UK too)
Chicago Uno Pizza
Not bad, I'd say.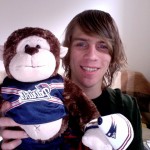 Also, I couldn't resist but buy a cheerleader uniform for my toy monkey Streetleyina, so here is me posing with her back in the UK when I dressed her up this morning!
Streetley with Streetleyina in her New England Patriot Cheerleader Squad get-up